Lacrosse is BACK!!
---
---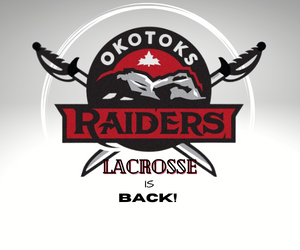 ---
We know that many of you are anxious to hear about the plans for Raiders lacrosse for the upcoming season. We are hard at work along with our partner clubs at the CDLA doing the best we can to put together a plan in light of the uncertainty that we are all facing the midst of these pandemic times. Alberta's current health and safety regulations do not permit youth team sports activities. However, Alberta's Path Forward guidance contemplates youth team sport activities being included in Step 2 and that Step 2 could start as early as March 1. We are hopeful we are hopeful that with recent trends in the pandemic in Alberta that a lacrosse season in some form could begin as early as the middle of March with games taking place in the traditional mid-April to end of June timeframe but of course we cannot guarantee that in any way and the season may start and run later. In that hope, here is an outline of our current plan.
REGISTRATION and FEES
In anticipation of that being the course of events over the next few months we are opening registration for the 2021 season on February 15, 2021. We know that families have a lot of uncertainty about the future of the season so registration will work a little differently than it has in the past. Here is what to expect.
-Upon registration each registrant will be asked to pay a non-refundable deposit. The exact amount will be determined by February 15 as we are still waiting on information from the ALA how it is going to administer the fee that is paid to it, typically by the ORLA on a player's behalf. This deposit will let us know how many players to program for and will also guarantee your player a spot in a program this season. With health and safety restrictions likely to make team sizes less flexible than in the past in order to comply with cohort requirements if players are not registered early with this deposit we may not be able to offer spots in programs to players at a later date.
Why is this deposit non-refundable? The short answer is that carrying on minor lacrosse does have ongoing expenses that need to be paid regardless of what participation looks like. Things like websites, insurance, storage lockers, administrative staff (we haven't paid any staff directly in Okotoks, but we benefit from and share the costs of CDLA and ALA staff) and administrative fees all continue to have to be paid. Last season we were able to refund 100% of all of our early registrants' money and paid funds to ALA and CDLA for their continued operations out of funds that we had prudently saved from prior operations. Our fees for our summer programming only covered a portion of our expenses and we did have expenses for evaluation floor times that took place prior to March 13. This is not sustainable over the long term, certainly not if we face another season of costs for evaluations or coaching certification without registration income. The ORLA, ALA and CDLA will need funds to ensure the long term viability of minor lacrosse in Okotoks and Alberta.
-As the season unfolds we anticipate levying additional fees at 3 other points throughout the season. When and how much those fees will be will depend on how much lacrosse activity takes place. We believe this is the fairest means of recovering the costs for the actual lacrosse players get to enjoy while minimizing the chances of having families waiting on significant refunds.
COST
The maximum amount of those fees (including the deposit and any fee paid to the ALA) will be as follows:
| | |
| --- | --- |
| 6U | $200 |
| 8U | $300 |
| 10U | $355 |
| 12U | $385 |
| 14U | $415 |
| 16U | $425 |
In essence, in the event that we are able to carry out our season in accordance with the plan set out below, this is the maximum total fees. In the event that programming is curtailed or cancelled, the fees will be reduced and charged in order to recover the costs of the programming that is delivered.
So, hypothetically, a 12U player could be looking at paying a $55 non-refundable deposit on registration and then $110 on each of April 15, May 15 and June 15 if the season unfolded in a perfect scenario. Other groups deposits and fees would look proportional to this.
PROGRAMS
If the best case scenario outlined above took place and health and safety regulation is similar to what was in place in Alberta in September and October 2020, this is the plan for each age group, keeping in mind that some modification of divisions and schedules may be required depending on the number of registered players in each age group, facility availability and other similar factors:
-6U and 8U - Players will be placed in cohorts of up to 45 players with up to 5 coaches. This cohort will practice together and then play 3 v 3 or 4 v 4 cross floor games with each other. Approximately 2 floor times per week throughout the season. There will not be activities with other CDLA clubs.
-10U - Players will be grouped into like skill groups (essentially A and B teams) and play against other teams from other CDLA clubs. There will be a schedule of teams forming a cohort for games and then a 2 week break of only practice, before new cohorts are reformed for another set of games. The season would have 10 games with no playoffs or tournaments. Games will likely be limited to being against teams in the southern part of the CDLA (High River, Axemen, Sabrecats).
-12U, 14U and 16U - We are looking at cooperating with other clubs to form HOKs A teams similar to previous seasons. Players not on the HOKs A team will be on a B team. All teams will play games against other CDLA teams in 2 cohort games/2 weeks of practice rotation. A teams in particular may be playing 2 games against the same team during each game rotation. As a result, B teams may have smaller rosters and fewer coaches permitted than A teams to fit cohort requirements for playing 2 different teams in a rotation. There will be no playoffs or tournaments.
-There will be no evaluations for 6U and 8U. 10U and up may have evaluations if the number of registered players, timing and health regulations permit. HOKs teams may have invitation only evaluations or teams may be selected by associations without evaluations if required by the number of players wishing to try out, the timing of activities and health and safety regulations.
OTHER CHANGES
-The ORLA Board has decided to suspend the application of our current fee refund policy for the 2021 season.
-The volunteer requirement policy will be suspended. We don't know exactly what volunteer opportunities will be available to our members or which ones might have particular health requirements that cannot accommodate volunteering. That being said, we will still need volunteers, particularly as coaches, managers and first aid staff. Our registration form will include a space to indicate parents' interest in serving in these positions. If you are willing and able to help out, please let us know there and we will be following up with you.
WHAT CAN YOU DO?
If you would like to support the return of minor lacrosse we encourage you to do the following
Register! Registering as soon as registration opens will allow us to have the best information to plan for the season and that you suppor the model that the Raiders and other CDLA clubs are working towards. If your financial circumstances don't permit that or you have other feedback, do let us know.
Volunteer! We will need coaches and managers, let us know.
Spread the Word! If your players love lacrosse tell other families and get them to participate too. Our ability to provide programs our players love is directly impacted by the number of players involved. This year has been tough for everyone and losing a season sucks, but if we can come back with at least as many and maybe even more players than before, lacrosse will be better for everyone.
Thanks everyone and we hope to see you out there soon!