Indoor lacrosse is back!
---
---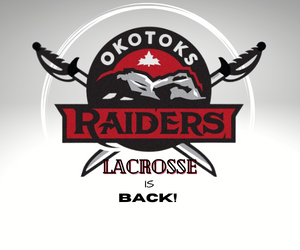 ---
Hello Raiders!
It has been a great couple of weeks getting out with our outdoor skills and drills players.
We are now in a position to open registration for our indoor "competition" programming. The link to register is
here
.This program is designed to get players back to being able to get into some more game like activities. We know that players like to play games. ALA has provided member clubs with various different game style options that we will be able to incorporate depending on our registration numbers. A few things to note about this program.
First - as this is a non-physically distant program. Your player(s) can only participate in this program by entering what is known as a "cohort". The cohort will be made up of less than 50 people (including players, coaches and officials) who are permitted under Alberta Health guidelines to not physically distance among those 50 participants. Players CANNOT participate if they are participating in ANY OTHER non-physically distant sport programming. For example, if your player is in a hockey program where they are not physically distancing, they cannot enter this program. Players CAN enter this program if they are in another physically distanced sport activity. For example, players in a field lacrosse program that has been maintaining physical distancing (similar to how our outdoor program has been operated) could also enter our indoor program and participate.
Players will need to be outside of this program for 14 days before they enter into another cohort. Our current plan for our last day is to be August 7, so if a player played on the last day of this program, they would need to be outside of any other cohort until August 21 before entering another cohort. A player could stop playing this activity early to enter that other cohort if they wished. It will be up to the player and their parents or guardians to monitor compliance, although we will be asking for confirmation of compliance prior to each session as part of our screening procedures. We have worked to keep the cost down to try and enhance flexibility for families if this is a concern.
As we can only have a cohort up to 50 people, all competition like activities will be carried out "in-house" (with a possible exception at 14U and maybe 16U as discussed below).
All floor times will be at the
Murray Arena at the Okotoks Recreation Centre
. Each age group will receive 1 hour per week in floor time over 4 weeks. The schedule may be adjusted from week to week depending on coaching, player numbers and similar considerations.
The cost for these sessions will be $60. However, if you have already registered for the outdoor skills sessions, you will be provided a coupon code for a $30 credit against that fee so that the cost to you is only an additional $30, for a total of $60 including the fee paid for your outdoor registration.
Coaches at these groups may be physically distant or not physically distant. If a coach is engaged in a not physically distant way with the players, that coach is then inside that cohort and cannot be in another cohort, which is why you may see some coaching (particularly at an older level) take place from a physical distance.
There will be no dressing rooms available, aside from using washrooms. Players should show up no more than 5 minutes prior to their allotted time and in their equipment ready to go on the floor. A parent will be permitted to attend and spectate, but no extra spectators (siblings, grandparents) should attend and spectators are expected to maintain a 2 m physical distance between each other inside the arena area. Players should leave immediately after their activity. There will be specific arena entrances and exits designated to us away from the main Okotoks Recreation Centre entrance.
A general guideline this is what you could expect for each age group is as follows:
6U and 8U combined: - 30 minutes of skills and practice combined with a 30 minute cross-floor scrimmage using 3 ft x 3ft sized nets. Wednesdays from 6-7 pm
10U and 12U - With ~14 registrants, 2 3 v 3 scrimmages in an hour session with a rest period between. Coaches will use their discretion as to a full floor or a half floor format. Warmups will be used for brief skill development sessions. At ~20 registrants we would be able to move to a 4 v 4 format. At ~30 registrants we could either move to 5 v 5 format or switch to a multi team bubble rotating teams through.
10U Tuesdays from 6-7 pm,
12U Tuesdays from 7:30-8:30 pm
14U and 16U - Given the numbers, particularly at 16U, we are looking at working with the Sabrecats club out of south Calgary to build enough registrants to carry on game like activities. Otherwise, we may have to combine age groups to get a sufficient number of players together in order to make a fun activity. Rules will be modified accordingly.
14U Thursdays from 6-7 pm.
16U Thursdays from 7:30 pm to 8:30 pm.
If interest keeps up, we will maintain a Monday evening socially distant outdoor skills session. How many hours we run will depend on the number of players who sign up.
Note that we are already planning some extra floor time in the fall at the Field House to try some other additional programming outside of traditional lacrosse season to keep our players engaged. We hope to be able to announce more on that once we get this program all completed.
We hope to see many of you out there!